We have a trained eye to spot construction defects, safety hazards, and components that need service and maintenance to ensure a healthy home or property. Every property inspected includes dozens of photos with illustrations to give you a full picture of the property. Some defects are minor, and my goal is protecting you during a transaction or defect dispute. My service always recommends LICENSED professionals, contractors or specialists to repair and service items. The photos below are just examples of the DEFECTS we encounter on a day of inspections. Property maintenance is truly never ending and when things are fixed correctly it makes your home safer and preserves property values.
Yes this was a Coffee Can added to secure a hot water heater vent. This could have posed a deadly carbon monoxide hazard. Only listed and approved products should be used to complete repairs. Coffee Cans and Duct tape not recommended.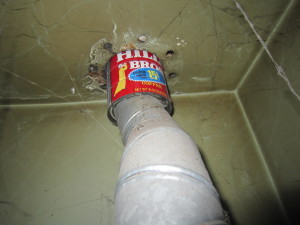 Unsafe electrical panels. Old and outdated pose fire safety hazards. A licensed electrician should replace them. Many panels that may have been fine in the 1950's would not meet the electrical standards required for today's modern appliances.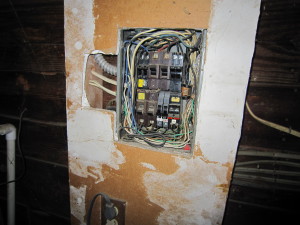 Unsafe stairways pose serious safety hazards. Not only should they comply with building safety standards, they should be maintained to prevent falls.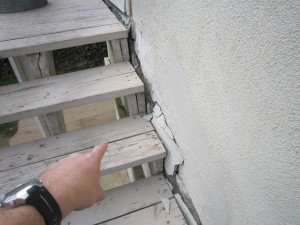 Faulty plumbing can lead to leaks, then cause water damage and possible mold growth. It pays to look under your sink once in a while to check for leaks and service them as necessary.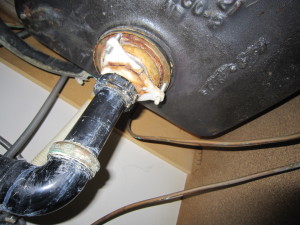 Chimney flues need to be cleaned to prevent carbon monoxide and fire safety hazards. A licensed chimney specialist should clean your flue annually or as needed for safety. This one was not cleaned in a very long time and is clogged.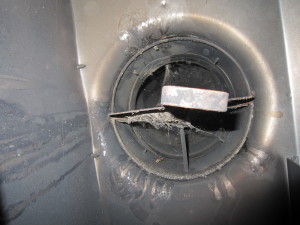 Old sink shut off valves can leak, replace them as necessary. Typically, I see that they need replacement every 10 to 20 years.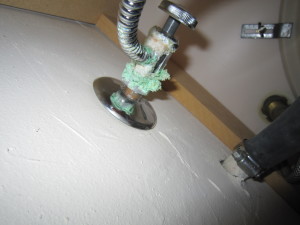 Corrosion in main electrical panels is never a good sign. Have a licensed electrician service as necessary.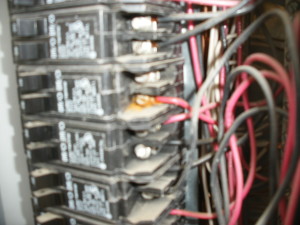 Look closely at the house below, and look for the brown door. Yes, it opens up over a steep fall. I often encounter homeowners that do not have common sense in mind. Its a serious safety hazard.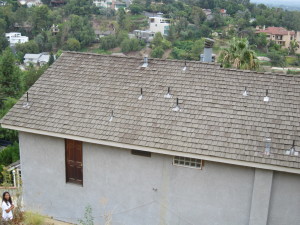 If you are a purchasing a home on a hillside, think long and hard. Geological conditions can be hazardous for your home's health and pose serious problems that most insurance companies do not want to cover you for.  Always have a licensed geologist evaluate a home you want to purchase on a steep hillside. This home had other structural problems.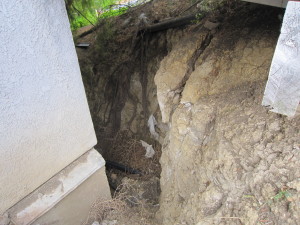 Structural components or earth to wood contact is never good.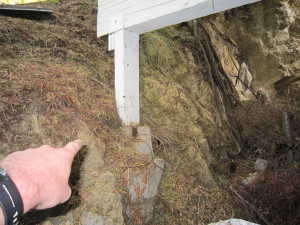 Rodents love attics and warm places.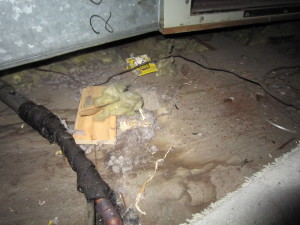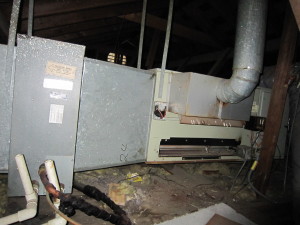 The furnace above is a dangerous Recall model made by Consolidated industries. 30,000 of these furnaces are throughout California and have burned down several homes.  I have inspected thousands of homes and have found approximately 25 during my career so far over 15 years of inspecting.  Replacement of these furnaces recommended immediately. Don't even test them, just have a licensed heating contractor replace as soon as possible.